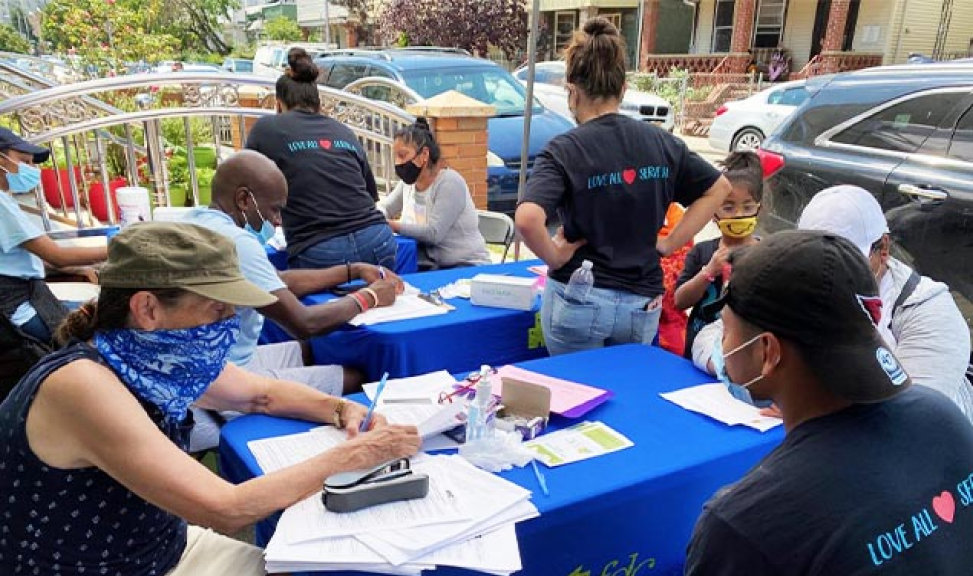 Feb 28, 2022
Our Housing Team Keeps Growing! Meet Our New Hires!
Feb 28, 2022
Meet Our New Hires!
Athena McCray began working with Flatbush Development Corporation earlier this month as an EHV Housing Navigator. Her primary goal is to assist in any capacity in bringing down the high rate of homelessness in NYC. Having graduated with a Bachelor of Arts in 2010, with a major in Social Control & Deviant Behavior from John Jay College of Criminal Justice, and a minor in Counseling. Ms. McCray began her professional career in 2012 with Catholic Charities of Brooklyn & Queens. She worked in the Supportive Housing program providing services to clients that had a mental illness diagnosis. In late 2016, she entered the shelter system as a Case Manager with Project Renewal, which had a population of female clients with mental health, and substance use diagnoses. In 2018 Ms. McCray became an Independent Living Specialist with BRC, in an employment male shelter. During the peak of the COVID-19 pandemic, Ms. McCray made a decision to further her education and is now in the process of enrolling in Graduate school in hopes of earning a Master's degree in Public Administration.
Ivy Opoku-Mensah is a kind-hearted person who loves to help underserved and vulnerable communities. Ivy has interned at various agencies assisting clients with housing, job preparation, ongoing rehab, and also conducted health and wellness literature for heart failure patients as preparation for hospital discharge. Ivy has been working with the mentally ill population for about 8 years now and was working as a site manager in an affordable housing agency. In which she maintained a supported housing building with residents who were previously homeless veterans, disabled, elderly, and mentally ill tenants. Ivy has a background working with DHS, HPD, DHCR, HRA, and other city agencies. Ivy is currently obtaining her master's degree in Public Administration with distinction in Health Administration and is expected to complete her degree, in May 2022. Ivy always had a passion to work in the healthcare sector but didn't know what avenue to go, but wanted to do something that will make a difference in other people's lives. Her interest increased as her native country, Ghana has a very challenging healthcare system. Ivy hopes to one day return to Ghana and operates a successful healthcare facility.
Bianca Medrano is a single mother of six kids. She has a deep passion for helping people and strives to be a role model to her children. She loves to learn and challenge everyone around her to be the best version of themselves. To know her is to have found the friend you never knew you needed. My primary goals in life are to finish my education and be involved in my community the best way she can. She was among the first graduates of the FDC Tenant Advocacy Project. She was recently hired by FDC to work as the Community Organizer on the TAP project. She is a highly valued member of the team and the program is looking forward to working with her and seeing her achieve all of her goals.
Imani Taveras is dedicated to the betterment of the disadvantaged. She has vast experience working in with the Department of Social Services focusing particularly on homeless services ("DHS"). There she started in food services preparing and feeding the adult homeless males. From there she moved on to direct services ensuring her clients were provided with basic hygienic necessities and assisted them with their adult living skills. Wanting to do more Imani transitioned to working with homeless and unstably housed women who had a dual diagnosis of mental health and chemical addictions ("MICA"). In that new role, Imani coordinated with New York City's Human Resources Administration ("HRA") and the Social Security Administration ("SSA") to assist her clients in obtaining SNAP, Cash Assistance, Medicaid, and Social Security Awards. From there, she returned to working with the homeless adult male population working specifically in the housing department. In the housing department, she coordinated with NYCHA, HRA, DHS, and private housing providers. Imani had a direct role in combating homelessness by assisting dozens of individuals obtain suitable housing. From there Imani went on to become a Case Manager Supervisor where she was responsible for overseeing Case Management, Housing, and Community Coordinator services within the shelter. Imani currently attends CUNY Medgar Evers pursuing a degree in psychology in her quest to become a Licensed Social Worker. Imani believes passionately in providing services to the underserved, especially the homeless population.