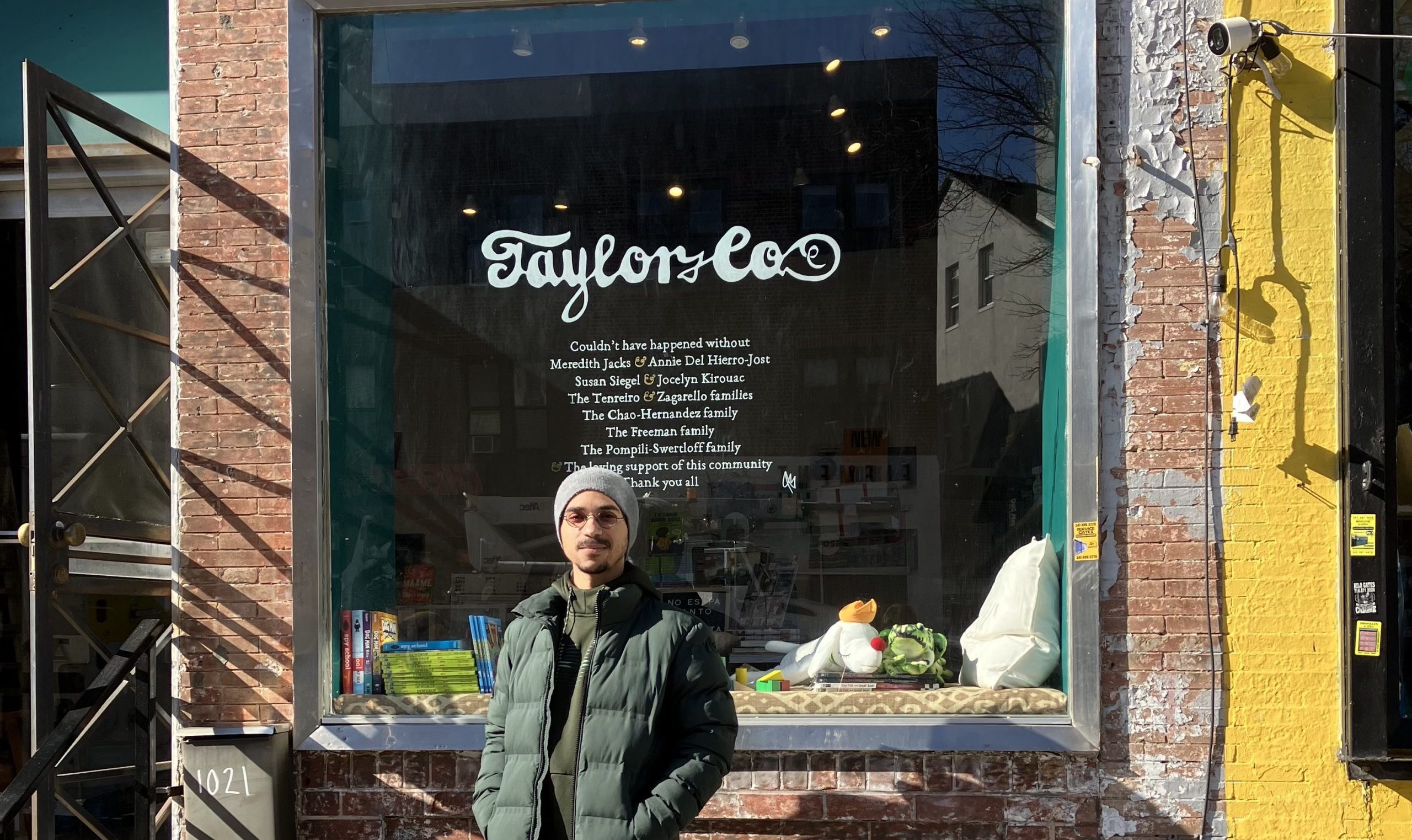 Feb 28, 2023
Interview with Taylor & Co Bookstore Owner Andrew Colarusso
Feb 28, 2023
Andrew Colarusso warmly welcomed us, a few members of the Economic Development team at FDC, inside of his in-progress bookstore, Taylor & Co. It's located at 1021 Cortelyou Road where Brooklyn Artery once was, which is now across the street at a larger location.
When we visited Andrew, he corralled some chairs that were hidden around the tiny space full of boxes of books and shelves underway. He set the chairs up in a neat circle, as if a workshop, and naturally the four of us began talking about books and the neighborhood. In the middle of our conversation, Andrew's eyes grew large when he realized one of us was the former owner of Cinco De Mayo, a Mexican restaurant that was on Cortelyou before it closed during the Covid shutdown. He and Edith, the owner, reminisced on the mole and enchiladas.
Andrew spoke on his interests in opening a bookstore and what he hopes it will bring to the neighborhood. He says, "I like walking and biking when I can. I would walk to Galaxy Collectibles on 5th Ave in Park Slope or Any One Comics in Crown Heights and that's 3 miles. So after a while I was like, what if we had one in the neighborhood?"
Andrew grew up in Ditmas Park but for the past six years, he's been in Rhode Island working as an assistant professor at his MFA alma mater Brown University for their creative writing program. He told us his favorite bookstore as a student was St. Mark's Bookshop, once the oldest independent bookstore in NYC before it closed in 2016 due to unaffordable rent.
"That will be the challenge of the year" he elaborates, "can I make sure Taylor & Co is sustainable in a way that respects the wishes of the people in the neighborhood but is also frank about the bottom line of selling books?"
Andrew says he's not alone in this project and that he couldn't have done it without the support of his family. He humorously added, "My mother painted the walls, she has a ton of energy." She also upholstered the cushion that rests beneath the bright street facing window. Andrew cleared up the meaning of the name Taylor & Co which is a combination of his step-father's last name and the first two letters of his last name Colarusso, hence Co.
Andrew is soft spoken with a warm presence. He says comic books are a guilty pleasure of his and he plans on selling some of his very own at the store. His favorite author is Faulkner, favorite book is "Hooper Humperdink…? Not Him!" by Dr. Suess and currently, his favorite comic is "The Many Deaths of Laila Starr". We are very excited to welcome his bookstore into the neighborhood.
Taylor & Co is set to open on Saturday, March 4th please join us at 1PM as they cut their ribbon!